I am currently taking my yoga teacher training & last wknd I put together my first class sequence. Its a lot harder than it seems bcos so many things have to go into ur planning. I love it tho bcos it allows me to be creative in a lot of diff ways. The underlying theme I tied into the 30 min lesson plan was learning to lead with your heart. I was inspired by Valentines day since it was right around the corner.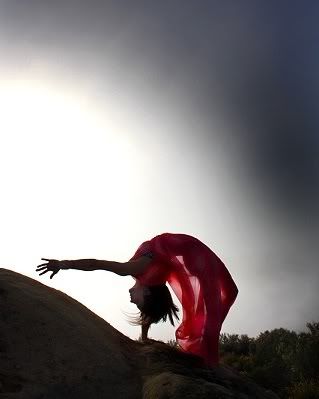 Photo: Robert Sturman / Pose: Camatkarasana - Wild thing
Valentines is one of my favorite "holidays." Even tho the reasons for why its my favorite holiday have changed thru-out the years, for me its always been a celebration of love. I used to give it a romantic meaning in my teens & that slowly shifted to a sense of gratitude for my family & friends.

Then I started practicing yoga & THAT became my focus for a few years & THAT became my love. The more I practiced, the more my heart opened & naturally, that led me on a path to self love. When you are in that heart space you start to see the world differently. Instead of finding myself falling in love with Prince Charming, I found myself falling in love with life.

When you lead with your heart, you automatically become more in tune with the world around you & that's when you can create beautiful things. So in today's practice let's lead with our hearts. Each pose expresses love in a different way. This short sequence will taking you into Camatkarasana aka Wild Thing.