♡ i find it difficult going out there and living life while trying to keep up with blogging. there is so much i want to blog about and share with you but so little time. i applaud those bloggers out there who can do both. Teach me your ways hehe ♡
So I stumbled upon this astrology website which I found was pretty cool. I know a lot of you out there think its all hokey pokey stuff. i know some ppl are skeptical bcos the only astrology they really come into daily contact with is in the newspaper or magazines. its definitely not my forte but i know that its more than that. its another art of its own.
Anyways the site is called
Astro.com
. It will ask for your birth date and time and then provide u with an in depth profile. Mine is freakishly accurate. I picked out a few main ones:
♥ Although you are affectionate and enjoy being loved, you want to be free, emotionally and otherwise.

(the story of my life. still trying to figure out if its a blessing of curse)

You want to be free to choose your friends and not be tied down by those you love. You want to be with people who are exciting and stimulating, who can take you away from the normal daily routine. Don't let anyone make you feel guilty because you want to do your own thing. After all, you are willing to grant others the same freedom.

♥

Your mind grasps new ideas and concepts very quickly, and you are always on the lookout for anything new and exciting.



♥

You also tend to move so fast that your energies get scattered and you never really get anything done. Be careful not to start a lot of projects and then drop them when the thrill of a new experience has worn off. At times your tempo of activity gets so high that you simply exhaust yourself. During such times you will become extremely nervous and irritable, which is the signal to slow down.

(haha. ME written all over it. where do you think i got the nick name "scrambled eggs")

♥ You like to be surrounded by beauty and are depressed by anything ugly or unpleasant.

(didnt i just do an entry on this?)

While you are quite young, you may show some definite artistic ability. Also you appreciate other people's artistic talents.

♥

Perhaps the most important effect of this aspect, however, is that it takes your mind away from narrowly logical thinking. You look for form and beauty in ideas as well as in objects. Also you may think visually, by seeing images in your head rather than just connecting ideas.
Look at these beautiful Jessica Simpson patent peep toes I got. They are a lovely milky shade of pink. I think I'm in love with milky pink right now.
yes, i know i got major toe cleavage lol*
Coincidentally I had gotten the same shade of OPI nail polish a week ago. It's called
Malaysian Mist
.
♡
And since we are on the topic of pink, here are a few things from my wallet...
♡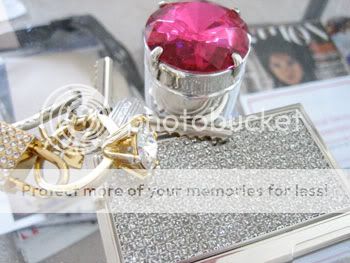 My pink berry and LV wallet, my blig bling card holder, key chain and jewel gum case. yes i know im really girlie