One of the things that really excites me is when i meet very talented ppl. You can tell that the things they create and express are coming from their heart. So today I'd love to share with you a piece of sweetness that I think you'd very much enjoy as well.
When I say a piece of sweetness I meant it literally. This girl creates such delightful looking cakes and desserts that are as appealing to the eyes as they are appetizing to the tummy. But then, I always have a hard time eating things that look too lovely =P


See for yourself.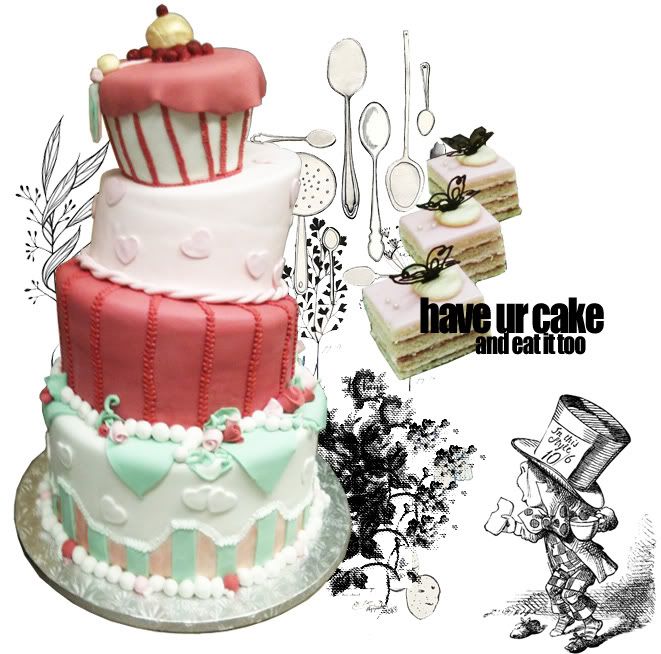 ♥
Tell us a little about yourself, what is it that you do?
My name is Jeanie Lam, and I recently graduated from SAIT's Baking and
Pastry Arts Program. I specialize in wedding cakes and special occasion cakes (ex.
Baby Shower cakes, Birthday cakes, etc..).
♥
Where are you from & how did you get into this industry?
I was born and raised here in Calgary, Alberta.
I've always enjoyed baking and making pastries. Growing up, watching my
grandpa make moon cakes every year with different designs and different fillings
and the little 3D piglets. He was inspiring.
I also loved watching all the different challenges they would have on the
Food Network and awed at all the competitors. I wanted to be like the competitors
on those show, or even like Buddy from Cake Boss. They're so inspiring and creative.
My friends would always tell me to go to SAIT and take the baking and pastry arts
program, since I baked all the time for farewell parties or birthday parties. So I
applied, went thorugh the course interview and got in. Survived two years of studies
and hands-on work and now here I am just steps away from fulfilling my dream.
♥
What did you deam of becoming when you were a little girl?
Growing up I always wanted to become a pediatrician. I never even considered
becoming a baker or a pastry chef. Now when I think back to it all, I'm not even
sure why I had that desire dream of becoming a pediatrician. In junior high I had
that dream and even wrote that in the year book and on a piece of paper that went
into our time capsule. I guess we don't know what we really want to be until we
really grow up and think about what we really want to do with the rest of our lives.
♥
What inspires you when you are creating a piece of work?
When I receive a cake order, I ask the client who it's for and if they can tell me a
little bit about the person it's for. Whether they have a cake in mind or a picture
they would like to use as their template and we go from there. I give the client my
ideas and suggestions and draw up a cake with both of out ideas. I always try to
spice up the cake with my own designs and combine that with the persons characteristics
and personality.
♥
What services do you provide (custom, from catalog...etc)?
Most of the cakes that I've created are custom. Some of the others
are templates from catalogs with my own little twist.
♥
Use three words to describe your creations?
classy, moderate, and creative
♥
So if we are interested in ordering from you, how do we go about?
E-mail right now is the best way to contact me.
jeanie.lam@hotmail.com
send me an e-mail, with details about the order and when you
need the cake or desserts. Preferably two weeks before the event,
that will give both of us time to discuss the details of the cake.